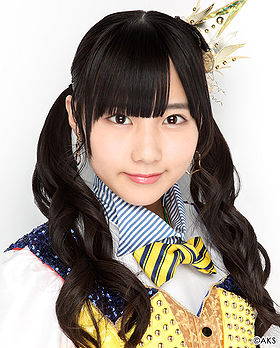 ABOUT HER:
-She joined HKT48 as a 3rd generation member on November 13th.
-Mikurin is a member of HKT48's team H.
-She was born in Kumamoto on September 12th,2001.
-Her favorite 48G song is Aitakatta.
-Admires Oshima Yuko,Shinoda Mariko & Itano Tomomi.
-She's afraid of haunted houses.
-Her favorite colors are blue and pink.
-Has a good skill with the hula hoop.
-She wants to be the type of person who hides nothing.
-She likes to spend time with her family and dogs.
-Her favorite word is ''happiness''.
-Her HKT48 oshimens are Moriyasu Madoka & Miyawaki Sakura.
-Her audition song was Kera Kera's ''Star Lovelation''
-She's known for being really mature for her age.
-She wants to perform Zipper in the future.
-She hates to be compared with Nako,she says Miku is Miku and Nako i Nako.
-The solo song she wants to perform is Shortcake.
-Her favorite fruits are oranges and strawberries.
-She loves being praised.
-She wants to visit Hawaii.
SOCIAL NETWORKS
G+
VIDEOS (credits to uploaders)
Miku singing Warukii at karaoke
Singing Heart Gata Virus at karaoke
Performance of Namaiki Lips at AKB SHOW
Mikurin,Aoi,Anya & Nako cover Body & Soul by SPEED at SSA
Mikurin,Nako & Naopon perform MARIA