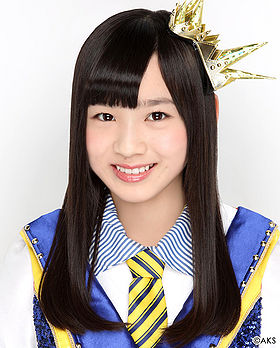 ABOUT HER:
-Mirun is an HKT48 Kenkyuusei
-She joined HKT48 in November 2013 as a 3rd generation member.
-She was born on January 28,2001 in Fukuoka.
-Her favorite food are macaroons.
-Her favorite 48G songs are Pajama Drive,Wimbledon e Tsuretette & Seifuku Resistance
-She loves collecting sea related things.
-Her audition song was Eien Pressure
-She likes to read books
-She's really strong phisically
-She knows ballet.
-She wants to try dubbing in the future.
-Her favorite words are ''dreams'' and ''effort''
-She's close with Kurihara Sae & Sakamoto Erena
-She wants to become a famous actress like Audrey Hepburn.
SOCIAL NETWORKS:
G+
7gogo
VIDEOS: (credit to uploaders)
Performance of Watashi wa Blueberry Pie (Mirun center unit)
HKT48 3rd gen performs Skirt,Hirari
HKT48 3rd gen live at Natsu Matsuri