Anai Chihiro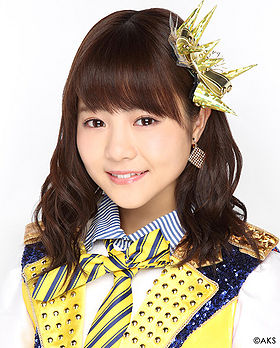 ABOUT HER:
-Chihiron is the captain of HKT48's Team H.
-She joined HKT48 on July 2011 as a 1st generation member.
-She was born in January 27th,1996 in Fukuoka.
-She wants to be a model or actress in the future.
-Knows classical ballet.
-She's afraid of bugs.
-She's currently studying business at university.
-In 2012 she had surgery in her left eye because of chalazion.
-She can play the guitar.
-She's a senbatsu member.
-She's a good friend of Kodama Haruka.
-Ranked 39th on AKB48 6th Senbatsu Sousenkyo.
SOCIAL NETWORKS
G+
7gogo
VIDEOS (credits to uploaders)
Chihiron's short cover of Enkyori Poster
Chihiron,Saechan & Sakuratan perform Kimi wa Boku da
Chihiron,Haruppi,Meru,Maichan & Mao perform Natsuiro no Nancy
Chihiron,Takamina & Yuihan perform Bird
Chihiron,Madoka,Natsu & Cinnamon perform Blue Rose
Chihiron,Sakura,Madoka,Natsu & Jiina perform Cat's Eye